Arrival
The sky was dark and starry and the air was hot and muggy. It was just after 8pm when I arrived at my destination by the beach in Costa Rica. I got some essentials to get me started, a 5 gallon jug of water to save having to use plastic bottles, a dark roast Costa Rican coffee, almond milk, local honey, and a giant juicy papaya.
Day One
There it is. The big Pacific.
The Beginning
This is what I came here for, and it feels magnificent. As I take my first steps into the sand I shed my sandals and board shorts, drop them off by a lava rock, and go to shore. The ocean greets my feet, splashing, and I reach in with my hands. The dank salty smell reminds me that is has been too long.
Returning to my things, I stand with my feet wide in the sand. Power resonates, strong in this simplicity, and I watch the big waves crash into beautiful rights and lefts. The wind is heavy with salt and humidity and at the same time light in briskness. Similarly, my yoga feels heavy with appreciation and light with with mindful attention. The actual time was spontaneous and undocumented so I'm recreating the sequence and experience in videos this week. When my movements come to a close, I stand with hands pressed together in prayer. A cache of words flow through my minds eye and a prayer of intent forms.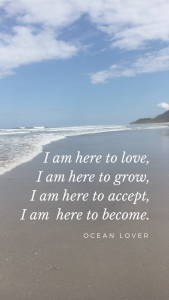 Making Yoga Videos
Below, is a video from my first day filming at the ocean. It is an opening to Warrior Two. If you turn the volume up, you can hear the wind and the waves and some people calling to their dogs. I am experimenting with new and improved equipment, and am thrilled that it is working!
I'm creating lots of new yoga content while I'm here and will be sharing on Patreon first, YouTube, Instagram, Facebook, and HERE my beloved Yoga Current!