Ready to Begin Yoga at Home?
It is easy to begin yoga at home, especially with guidance from online yoga for beginners! On this page, I will tell you what my favorite yoga props are, and why you want to use them. Having a selection of the best yoga props near you will help you achieve the benefits of yoga and encourage you to spend time on your mat!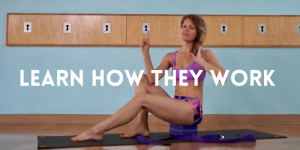 Getting Started with Yoga Props
First of all, I recommend everyone to have a set of yoga blocks. When you follow along with my yoga videos you will see that I use at least one yoga block for almost every session.
If you find it difficult to "touch your toes," a set of two yoga blocks is very helpful under your hands in standing forward fold. They make the difference! A set of yoga blocks is also very helpful in Yoga for Balance, Yoga for Weight Loss, Yoga for Back Pain, and Yoga for Strength and Flexibility.
All of my blocks are 4in but if you have a slender frame you might enjoy a 3in width. The foam blocks that I recommend below are all very sturdy which is important for balance and stability!
Continue reading to learn more about which yoga props are right for you, and find out what items around your house you can use to substitute for some essential yoga props and still achieve therapeutic results!
Best Yoga Props
Here is a list of all of the Yoga Props I have in my yoga room and home yoga studio. Scroll down to see which brands I love and learn how you can use them to benefit your yoga.
Yoga Mats
Yoga Strap
Yoga Blocks
Yoga Bolster
Wedge
Sandbags
Neck Pillow
Cushion
Eye Pillow
But before you go on a shopping spree, remember that to begin yoga at home you don't need to have FIVE of every little thing. I'm an advocate of minimalism and while over the years, I probably have purchased at least five of everything (for myself and students) there are MANY household items you can use to substitute for yoga props.
For example, you can start with pillows and cushions in place of a yoga bolster. You can use a hand towel or belt in place of a yoga strap, and you can use a pillow case or wash cloth in place of an eye pillow.