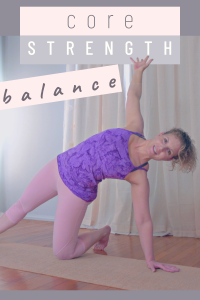 Learn core strength exercises for upper body yoga balance. It makes a perfect morning yoga session to energize your body, focus your mind, and empower your spirit!
Introduction to core strength and balance
Core strength for balance comes from a concert of muscles and joints, toned and working together. This musculoskeletal concert involves more than the abdomen and front of body. It requires the tone and coordination of the pelvis and thoracolumbar treasure chest.
What is even more vital for balance is the body's sense of balance, which comes from the vestibular system — inner ears, eyes, and cerebellum.
You can bring awareness to your sense of balance in this video by following along with the 5 minute warm up to massage the scalp massage and stretch the neck.
The following sequence originated from my home yoga practice and knowledge of bodywork.
30min yoga for core strength and balance:
Introduction, 0 – 1:45
Warm up, 1:45 – 7:30
Strength, 7:35 – 16:30
Balance, 16:40 – 26:00
Cool down, 26:00 – 32:00
Warm up  ~5min
Phase One
Scalp massage– place fingertips to scalp and begin making small circles, using gentle yet firm pressure.
Phase Two
Neck stretches– to release tension in the occipital area, allowing nerve connections to communicate more freely.
Strength  ~10min
Phase One
From all fours– one arm alternating lift / one arm and leg pulsation lift
Phase Two
Vinyasa– downward facing to extended plank
Balance  ~10min
Phase One
From all fours– side plank vasisthasana 1
Phase Two
Vinyasa– one leg downward facing to one leg extended plank
From downward facing– side plank vasisthasana 2
Cool down  ~5min
Phase One
Vajrasana seat– upward arms with block between hands, to release tension and make space for the shoulders, neck, and head
Phase Two
Bodyball– relax your body into a supported recline over the bodyball, to release tension and make space for the pelvis and thoracolumbar chest
Learn more about Yogacurrent
Make a pledge on Patreon