The blog and vlog begins with my social media makeover, inspired by the sea turtles and learning to surf!
Lots more content is on the way to share inspiration and ideas to create your home yoga space, practice self care, and follow along with yoga videos online. Read more ABOUT it 🙂
In this first official vlog, I talk about how my social media makeover was influenced in part by my experience learning to surf, and witnessing sea turtles.
I remembered that the life– beyond the things that drain our energy– is worth the courage it takes to pursuit our desired purpose.
Watching baby sea turtles hatch and flip-flop their way to the shore in Ostional, Costa Rica was truly an amazing, heartbreaking, and meaningful experience. I say heartbreaking, because their shells and flippers are so fragile… and their struggle is monumental. It truly tugs on the heartstrings!
From under the sand, they begin breaking through the shell and pushing through to the surface, and they instinctually determine the right direction towards the ocean. But it isn't just the challenge of their itty-bitty bodies flopping through dry sand, it's also the road blocks of branches, driftwood, and seaweed. Even the smallest obstacles present a challenge for the baby turtle to navigate around, or over.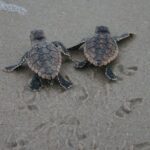 People come to protect them, by scaring off vultures… and I must say that the vultures are not easily scared. I was waving a giant stick but sometimes I felt as though I was waving the stick to protect myself from the vulture as well the slow, flopping turtle.
and it doesn't end there
It takes a long time, for each turtle to make it to the shore. By the time they reach the wet sand, I wanted to breathe a sigh of relief. However, the next stage of their journey begged for a rally of motivation. The waves racing onto the shoreline, seem delightful to me, bubbling briskly forward before dissolving into the wet sand. Yet, those same remnants of waves proved a massive force for the turtles. Their flippers tuck into their shells as they go flying off the ground, tumbling like dice tossed across a table.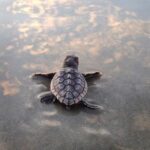 Again and again… and again and again, the minuscule waves toss the turtles. Sometimes wave after wave hit the turtle before it ever regained mobility. Slowly it begins moving for the thousandth time towards the ocean, flip-flopping head first into the next series of waves.
Not every turtle makes it, but eventually, after hours from the hatch, many turtles reach the point where their fins don't touch the sand anymore. They are paddling through water, and then getting knocked back to the sand, until finally they are paddling through water and swimming into, and under, the waves. And their journey continues.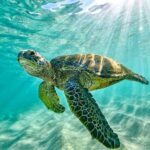 surfing spirit animal
I was inspired to discover that sea turtles are my surfing spirit animal. Learning to surf on a powerful beach break, I felt like one of those baby sea turtles most days. But I had my big breakthrough when I discovered a different kind of wave. It was a reef break, or point break. The design of the reef created a big friendly wave that I could actually practice catching, and ride.
And this beach was home to adult sea turtles. At first I didn't know what I was seeing, when I noticed a large shell body hovering beneath the surface near my board. But then, I realized that it was a large sea turtle, and it loved the wave too.
Every now and then, one would swim up and lift its heads above water, and there was a good chance that it was where the next wave would peak. So they helped me navigate when and where to paddle to be in position to surf the waves.
sea turtles, surfing, and social media makeover
The experience of surfing and witnessing the baby AND adult sea turtles encouraged me in my breakthrough from social media. I remembered that life– beyond the habits that drain our energy– is worth the courage it takes to pursuit our desire and purpose.
---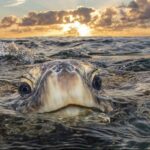 I'm committing to a regular schedule of sharing a new video every Wednesday and/or Sunday– so that means at least once, and maybe twice, a week. The vlogs will be for everyone on YouTube, and the yoga videos will be for the online class community on Patreon. I will share a selection of the yoga videos publicly on YouTube as well, but the comprehensive content will be created for my Patreon Yoga program.