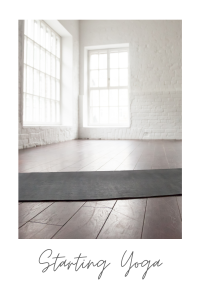 Now that you have considered different times of day for yoga, and you are discovering when yoga can fit into your life… the question becomes,
"Now that I'm here on my yoga mat or rug, how will I know what to do?"
Start yoga at home
This next stage is about figuring out what you like to do and what you can to do.
Each yoga lesson in the 5week series will hopefully help you find that!
Get into the rhythm!
When you begin your own yoga session, it's similar to playing music and getting into the rhythm of a song, *cue Jocelyn Enriquez. It's a groovy experience once you actually begin, and one that can become an established routine
To get to this desirable groovy and established place of experience, it is important that you can do the following:
–> discover your favorite times for yoga
–> rely on a method
Refer to When to Do Yoga for the first step. For the second step, the 5week series teaches methods you can rely on to accompany you through your yoga time!
Relax!
It's much simpler than it sounds.
Pay the attention meter!
The key to knowing what to do; knowing what you need, and knowing what you can rely on, is to start by simply paying attention.You can pay the attention meter with moments of presence.
Make space within!
Here is a short video to remind us all how simple it is to spend some time paying attention.
It can be this easy!
I want to encourage you to keep on keepin' on, making it to your yoga, time and time again.