It wasn't too long ago when I made a post on Instagram about how back bending postures were NOT my favorite thing to do. Well, to be fair I guess it was a little while ago – Spring 2017. I remember because I was pretty grumpy about how I was resisting the heart opening poses that I used to do so exuberantly.
Well, that changed!
Do you know what helped me make the shift?
I'll give you a hint….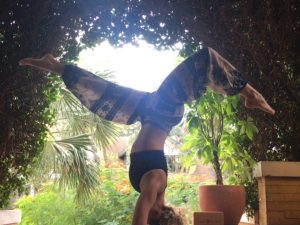 It wasn't forcing myself into doing backbends.
It was standing on my head. 
Headstands have some miraculous benefits, including but not limited to:
Strengthening the entirety of my backbone
Stabilizing my breath from the depth of my lungs
Aligning my wing bones and rib cage
Stimulating a calm flow of focus through my body
Balancing my blood pressure
Regulating my adrenal gland functions
Unwinding any gut tension
Perking up the energy in my feet
Circulating fresh energy around my heart
Establishing qualities of ease and self-confidence
With all of the above benefits from developing my Headstand practice, I naturally began flowing into my Backbend practice again.
And it feels so good.
There's nothing like the cohabitation of courage and peace that emerges within Backbends. My latest Instagram posts are dedicated to pathway of periodic Headstands into heart opening Back Bends. Check them out!
Show me yours!
Tag #YogaCurrent on your Instagram and Facebook yoga posts 🙂
https://instagram.com/p/BaU3Dw3HRA0/