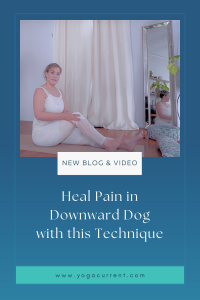 Namaste, friends at Yogacurrent! My new blog+video series is about deconstructing limitations to achieve freedom from pain. Today we are looking into a healing technique from my practice as a massage therapist. Specifically, I'm recommending this technique to apply with Downward Dog for your Yoga practice.
A Sense of Ease in Downward Dog
Do you ever wonder how some people express the Downward Dog yoga posture with a sense of ease and fluidity, while others complain about limitations? Some people enter the posture by firmly planting their heels and extending through their legs. They stretch and elongate their body with each breath. On the flip side, others crouch into the pose with bent knees, flexed feet, and laborious breath.
I believe that the difference is not simply about achieving the iconic look of Downward Facing Dog. Moreso, I believe the difference speaks to a desire to transform the sensations of pain into powerful wellbeing.
Deconstructing Downward Dog To Heal Pain 
My video, Deconstructing Downward Dog – Lesson One, I address this issue. I invite you to watch and follow along as I demonstrate a healing technique that immediately transforms tension that can allow your legs to extend, and your feet to reach the ground with ease in Adho Mukha Svanasana. [WATCH ON YOUTUBE]

Deconstructing Leg Tension in Downward Dog
In my experience as a yoga teacher, the most common complaint for a rigid experience in Downward Dog is "tight hamstrings." But is that really the primary cause of limitations in this yoga pose? Equally important to releasing tension in the hamstrings is the healing technique I share with you in the video. This technique is applied to the lower posterior muscles of the leg – gastrocnemius and soleus muscles (aka the calves).
The result is not just a posture that looks better! Moreover, it is a direct release of pain and tension in the knees and the spinal column. What replaces the pain and tension is the positive, feel good chemistry of oxygenation and circulation.
Downward Dog Yoga Asana Exploration
Now, let's explore how a regular practice of Downward Dog can be a transformative addition to your wellness routine. Instead of struggling through the posture, allow it to leading you towards a pain-free and more vibrant life.
Alignment and Tension Release: Downward Dog is a standing inversion that helps to create space between the vertebrae. By elongating the spine while maintaining proper alignment, the pose alleviates pressure on the spinal nerves. This can lead to greater ease of movement through the whole body.

Improved Blood Circulation: As you invert the body in Downward Dog, the efficiency of circulation is increased. This provides a fresh supply of oxygen and nutrients to the muscles, ligaments, and tendons, aiding in their repair and reducing inflammation that may contribute to knee and back pain.

Joint Mobilization: Downward Dog is a weight-bearing pose. As you lift your hips and press your heels towards the ground, circulation increases through the legs. By practicing this pose with proper alignment, you can gently mobilize the knees and ankles, enhancing their flexibility and reducing discomfort caused by stiffness.

Reducing Fluid Retention: As an inversion, Downward Facing Dog assists in reducing fluid retention in the legs, ankles, and feet, which may occur due to prolonged sitting or standing.

Mindful Awareness and Relaxation: Practicing Downward Dog requires focus and mindful awareness of the body's alignment and sensations. As you cultivate this awareness, you can identify areas of tension and consciously release them, creating a sense of relaxation and tranquility throughout the body.
Conclusion
Downward Dog is a foundational yoga pose, offering an array of benefits for the mind and body. By practicing the techniques that reduce limitations in this pose, you can experience a reduction in pain by releasing tension in the legs and promoting spinal alignment. 
Remember to practice with patience, honoring your body's unique needs and limitations. If you have any medical conditions or concerns about your circulation, it's best to consult with a healthcare professional before engaging in any new exercise routine.
Disclaimer: This blog is for informational purposes only and is not intended as medical advice. If you have any underlying health conditions or concerns, consult with a healthcare professional before starting any new breathing practice.
Affiliate: Yogacurrent is supported by its audience. When you purchase through links on the site, we may earn a commission at no additional cost to you. (ie, everyone wins!)
Invitations
Sign Up for Level One Video Series at Yogacurrent

Subscribe to the YouTube Channel

Purchase* Eco-Friendly Yoga Mats

Purchase* Yoga Clothes Jumpsuit

*these are affiliate links and recommended products