Do you have a Handstand practice? If so, you might be interested in trying out this backbend variation of Handstand – known in yoga as Scorpion!
What's in a Name
I recently received a request on my Facebook page to make a video on how to get into Scorpion Pose, which made me very happy because I love practicing and teaching people Yoga! This pose in particular was an exciting request as it a very powerful Asana in which you stand on your hands and the feet come over the head. It's definitely one of my personal challenge poses!
Since I do not come from a classical dance background, I did not consider that the Scorpion pose request was referring to another Asana in yoga called Natarajasana, or Cosmic Dancer, haha…So now I have 2 new videos to create – one for my challenge pose, Scorpion and one for the intended request, Cosmic Dancer!
Since I've already started off in the direction of Scorpion (Vrschikasana) I'd like to begin with this one.
Safety First
First, I'd like to point out that when practicing yoga we should do so with proper attention to our health – in body, mind, and spirit. Especially with challenging asanas it is important to proceed with care. In my upcoming video, I guide you through a Vinyasa sequence of asanas that will prepare your vital organs and musculoskeletal system for pose the arm-standing pose. This is to ensure that your body, mind, and spirit are warmed up and ready to welcome the intricacies of the challenge pose!
I have a teacher-friend who exclaimed during one advanced class at BFree Yoga Austin that the class was like the X-Games; "We're not wearing helmets, y'all!" I laughed, understanding that in Yoga we don't really need to wear helmets… unless we are very paranoid, like Mary Stuart Masterson's character in Benny Joon who wore a helmet and snorkel when she left the house 🙂
We don't wear helmets on our head in Yoga, but we do develop intelligence within our mind-body through action-oriented movement. This intelligence infuses our musculoskeletal system which creates support for our bones and range of motion for our joints. The helmet, or armor, is created by internal strength.
How to Advance
As I mentioned earlier, this is not only one of the most advanced Asanas in my repertoire of poses, but it is one of the most advanced poses in all of Light on Yoga – Iyengar's book of Asana mastery. The term "Advanced" is relative and does not only referring to the ability to poise ourself with complexity. We are reminded time after time that advancement in Yoga lies within the ability to find steadiness and equilibrium in both body and mind.
As a teacher, I find it rewarding to practice challenge poses that bring me back into a kind of "beginner mind," reminding me that the Journey of a thousand miles doesn't really ever end…. When I begin practicing this Scorpion Asana, I do so with a lot of my own thoughts shouting out messages of encouragement:
"You can do it!" "Press into the Earth." "Keep breathing." "Reach into the sky." "Hug the midline." "Keep breathing." "Root the middle knuckle of your middle, ring, and pinky fingers!" "Stretch your thumbs!" "Ignite your index." "Keep breathing." "Draw your tail." "Lift your heart." "Stay focused." "Keep breathing." "Balance." "Find peace." "Keep breathing."
The internal cues eventually subside into an experience in the pose. When we subside the mental chatter and find calmness and clarity, that is advancement in any asana.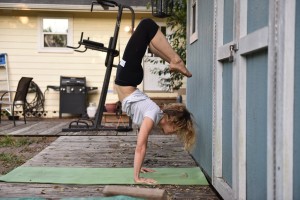 ---
Picture Project
As I am creating the video to teach this asana, I'd like to share with you these pictures from my practice that lead me into Scorpion.
1. Shoulder Stand develops strength in the back of the neck and the shoulders. It supports the glandular system and helps to detox through your lymph nodes. In the beginning, Shoulderstand should be practiced with proper support set up under your shoulders to relieve neck compression.
After Shoulderstand has advanced to a level of comfort, begin with this particular leg variation, to open up a backbending effect in your hips. You gain awareness in the fingers and the toes, and how the fingers and the toes relate to the strength, balance, and agility within your body.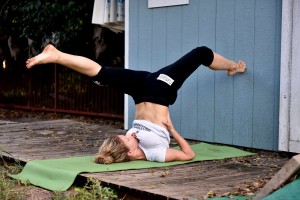 2. Forearm Stand, also known as Forearm Balance, and in Sanskrit Pincha Mayurasana develops stability and confidence in the neck, shoulders, and trunk of your body. You create a relationship between your rib cage, your head, and your pelvis. You develop awareness of how your fingers and toes communicate with the alignment of the rest of your body.
This pose opens the capacity of your lungs and invites you to stretch your capacity for vital life force to inhabit the internal landscape of your body and mind. You begin to see the world from a new perspective!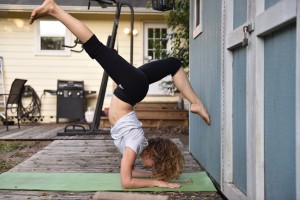 3. Handstand, or Adho Mukha Vrksasana takes a step up from the elbows onto the hands. In this variation, the backbend of Scorpion begins with one foot placed on a wall over head. The pelvis shifts forward as the ribcage dives between the arms and then lifts upward over the fingertips.
The opposite foot is crossed like Figure Four over the thigh. This creates stability in the backbending leg and prevents it from falling away from the wall. The Figure Four also opens the hip joint developing more communication between the head, heart, and hips.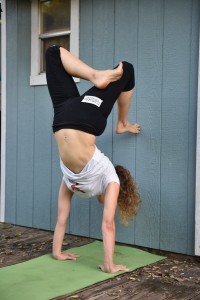 4. Scorpion, or Vrschikasana takes both feet into a backbend position overhead. Begin with the toenails at the wall and the pelvis shifting forward. Turn your gaze from the ground between you hands to the ground between your fingertips and the wall.
Then, come out of the pose and reposition your hands 2-hand-lengths farther away from the wall. Re-enter the pose and as you begin the backbend your toes will be activated in the air and not on the wall.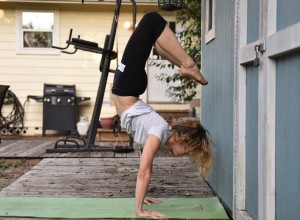 This "final" pose positions the toes on the crown of the head, as the picture of Iyengar demonstrates below: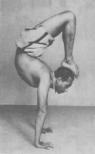 ---
I hope you enjoyed my preparatory picture project and written description on How To Do Scorpion Handstand! Is this on your Challenge Pose list? Let me know! What are some other poses you would like learn from a video? Also, if you would like to pre-purchase the video, you can do so at the sale price of $7.99 here. Keep in mind, all videos at Yoga Current are created, taught, and edited by me. You are receiving my personal touch and vision for sharing yoga and directly supporting my efforts as a yoga teacher.
Thank you so much for reading! I truly appreciate your presence on my site and I look forward to hearing from you and sharing more.
Namaste~
Courtney