We've kicked of the 7 steps to Meal Planning, and the first step is all about transforming refined sugar habits into nutritious alternatives. You can join the program anytime you like by following this link to sign up for my special Meal Planning!
Here is one Sweet Alternative that I've used for over ten years to replace dairy deserts. I call it,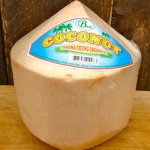 Coco-Cacao "Milk"shake 
When I discovered how to whack into a young coconut my life changed forever… You see, I used to love ice cream. It was one of my favorite foods. I even worked at an ice cream parlor in Austin called Amy's Ice Creams. We had a reputation for being creative and performing fancy tricks with the oh-so-thick recipe of various ice creams, like throwing a spade full of ice cream across 6th street to a hopeful customer holding a plastic bowl. If they caught the wildly flying blob of ice cream, they got to eat it for free. Most of the time it went splat on the sidewalk, and we went back into the ice cream shop to make a new one.
I hadn't noticed that I gained weight during the job, but I definitely noticed that once I quit I lost 10 lb. !!
Over the past ten years, I fix my sweet tooth craving for ice cream with non-dairy options that I find to be just as tasty with less of the adverse lethargic aftermath. The nutritional benefits in this "milk"shake are actually invigorating because of the high content of vitamins and minerals found in the fresh fruits and superfoods.
This is the recipe I use. It is SO simple… 🙂
Whack into a Young Coconut, or buy either Coconut Water or Coconut milk from the store
Place 1 or 1 1/4 frozen banana in a blender
Pour the contents of 1 Young Coconut or 1 cup of Coconut Water or milk into the blender
Add a small handful of frozen blueberries + 1/2 TBS Almond Butter (optional)
Sprinkle 1 TBS Raw Cacao nibs
Add 1/2 tsp Maca Powder (optional)
Blend for 30 seconds
Pour and Enjoy
Do you have your own Refined Sugar Alternatives? It would be SWEET if you shared your experience in the comment section below!
Pictorial list of Ingredients:
For superfoods, Cacao nibs and Maca powder, you can purchase at your local health food store or online at Nativas Naturals.