What's happening here at Yoga Current, you ask? Well, I'm SO excited to tell you about the NEW site designs and features that make accessing the yoga content and online programs easy & fun! I'll give you a little tour of what's happening here, and ask you some questions to get a better idea about what kinds of stories and info YOU WANT to see on my blog. 🙂
First of all, I've synced my schedule up with the online yoga programs so that those of you who want to practice WITH ME CAN register online and get the inside scoop as we do the yoga positions and routines together! There are 4 premium Online Yoga Programs, and the first one begins in May, June, July, August and beyond!!!
8 Amazing Poses; Yoga for Physical Wellbeing.
Stepping Stones; Online Yoga Class Challenge.
Anatomy+Action; Yoga Anatomy Tutorials.
Rock the Clock; Weekly Online Yoga Classes.

 You can register for any or all that you want 🙂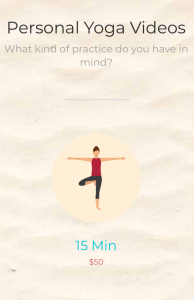 Next up on the agenda… Personal Yoga Videos! With a personal yoga video, you can choose a time length that fits your schedule, tell me what kind of yoga practice you want, and I will make you your very own online yoga video!
I know that everyone has a dynamic schedule with unique needs and I want you to have a yoga routine that you know you can go to every day and night. So when you request a video you can choose either a 15, 20, 30 or 60-minute video. Personal Yoga Videos have been the most requested service at Yoga Current which is awesome because I really enjoy working one-on-one with people! 🙂
Finally, I am at a crossroads with how I want to move forward on my blog! So far, the main categories have been Yoga Practice, Mindfulness, Health Tips, and Inspiration. I'm curious, what do you want to read more about? Do you want to learn more about yoga postures and self-care rituals? Do you want to read inspirational stories and personal anecdotes? Are you interested in lifestyle tips on happiness and minimalism? What about travel? Do you want to read about adventure and far away places? I am curious and would very much like to know what YOU would like to see posting on the blog!

Scroll down and write it in the comments what you want to see in the blog,
please and thank you!